Edgar Cayce on soulmates
My Review:
This was the first book I purchased when the memories of my past surfaced again containing my own 'soulmate' encounters.
Kevin J Todeschi is associated with A.R.E which is the Cayce foundation. He has gone over the readings to find a common theme pertaining to soulmate references from Cayce's readings. For the most part, I found myself in agreement with many of the conclusions reached by Todeschi in his research.
The one area lacking was the theme of 'twin souls.' The conclusions are not in agreement with my own spiritual experiences from the past.
This is a great book when it comes to the reincarnation and soul attractions being like a magnet that draws us to the 'souls' we are to encounter in this life time to carry on a relationship with.
DKing
Kindle soulmate Books
Download now and read soulmate books on your PC or other device
Kindle for you PC
Read Kindle Books on your PC
Get the best reading experience available on your PC. No Kindle required.
Access your Kindle books even if you don't have your Kindle with you.

Get free book samples - read the first chapter for free before you decide to buy.

Automatically synchronizes your last page read and annotations between devices with Whispersync.
Create new highlights, notes, and bookmarks and manage those created on your Kindle.
Use the built-in dictionary to seamlessly look up the definitions of English words without interrupting your reading.
Full screen reading view, color modes, and brightness controls offer an immersive reading experience.
Kindle Apps
PC, Mac, iPhone, iPad, BlackBerry, or Android Phone
Shop the

Kindle Store

for over 810,000 Kindle books, including New Releases and 107 of 111

New York Times® Best Sellers. Over 550,000 of these books are $9.99 or less, including 73

New York Times® Best Sellers.
Download and read Kindle books - no Kindle required.
FREE Kindle Reading Apps ~ Downloads
Amazon Kindle Reader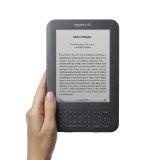 Kindle Wireless Reading Device, Wi-Fi, Graphite, 6