Soular Reunion: Journey of the Beloved
My Review:
After my 2007 experience - I started recalling that I had many mystical experiences relating to a 'near death experience' I had in 1978. The main theme for many years to follow as the 'twin' (or dual) spirit concept.
I had met my own twin spirit in 1977 and unfortunately - the person passed away in 1978. The spirit of my 'twin' stayed with me until 1982 as an angelical type of guide. I was introduced to four other soulmates - whose 'twin's' where on the 'celestial' side of the void. It was all a mystery to me. I was constantly having dreams where the theme was explained to me directly by the 'twin' who was on the other side.
This book touched on many of the themes. I am not 100% in agreement with the authors views but it was the best book I found on the market dealing with the basics of the 'twin spirit' aspect of soulmates.
DKing
Kindle soulmate Books
Download now and read soulmate books on your PC or other device
Kindle for you PC
Read Kindle Books on your PC
Get the best reading experience available on your PC. No Kindle required.
Access your Kindle books even if you don't have your Kindle with you.

Get free book samples - read the first chapter for free before you decide to buy.

Automatically synchronizes your last page read and annotations between devices with Whispersync.
Create new highlights, notes, and bookmarks and manage those created on your Kindle.
Use the built-in dictionary to seamlessly look up the definitions of English words without interrupting your reading.
Full screen reading view, color modes, and brightness controls offer an immersive reading experience.
Kindle Apps
PC, Mac, iPhone, iPad, BlackBerry, or Android Phone
Shop the

Kindle Store

for over 810,000 Kindle books, including New Releases and 107 of 111

New York Times® Best Sellers. Over 550,000 of these books are $9.99 or less, including 73

New York Times® Best Sellers.
Download and read Kindle books - no Kindle required.
FREE Kindle Reading Apps ~ Downloads
Amazon Kindle Reader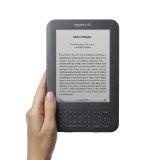 Kindle Wireless Reading Device, Wi-Fi, Graphite, 6