Reincarnation
Reincarnation, literally "to be made flesh again", is a doctrine or mystical belief that some essential part of a living being (in some variations only human beings) survives death to be reborn in a new body. This essential part is often referred to as the Spirit or Soul, the 'Higher or True Self', 'Divine Spark', 'I' or the 'Ego' (not to be confused with the ego as defined by psychology).
Religion
Different faiths have different approaches to this concept, and there are a number of versions of the reincarnation myth found around the world. Western religions, for example, notably reject the concept for the most part, although texts such as the Bible do have references which could be construed as discussions of reincarnation.
Greeks
Among the ancient Greeks, Socrates, Pythagoras, and Plato may be numbered among those who made reincarnation an integral part of their teachings. At the end of his life, Socrates said, "I am confident that there truly is such a thing as living again, and that the living spring from the dead." Pythagoras claimed he could remember his past lives, and Plato presented detailed accounts of reincarnation in his major works
Science
Reincarnation has been called by some to be the greatest unknown scientific discovery today. In the last chapter of Dr. Ian Stevenson's book entitled Twenty Cases Suggestive of Reincarnation (1967), he provides rigorous scientific reasoning to show how reincarnation is the only viable explanation that fits the facts of his study. He considers every possible alternative explanation for his twenty cases of young children who were spontaneously able to describe a previous lifetime as soon as they learned to talk. He was able to rule out each alternative explanation using one or more aspects of these cases. Later research has even bolstered his case in favor of the existence of reincarnation. His study is also completely reproducible which means that anybody who doubts the validity of this study is perfectly welcome to repeat it for themselves. I believe it is only a short matter of time before his discovery of the existence of reincarnation is finally realized by the scientific community and the world to be accepted as one of the greatest scientific discoveries of all time. ~ Kevin Williams: Near Death Experience Researcher
Ancient
Belief in reincarnation is an ancient phenomenon. This doctrine is a central tenet within the majority of Indian religious traditions, such as Hinduism (including Yoga, Vaishnavism, and Shaivism), Jainism, and Sikhism. The idea was also entertained by some Ancient Greek philosophers. Many modern Pagans also believe in reincarnation as do some New Age movements, along with followers of Spiritism, practitioners of certain African traditions, and students of esoteric philosophies such as Kabbalah, Sufism and Gnostic and Esoteric Christianity.

Latin meaning
The word "reincarnation" derives from Latin, literally meaning, "entering the flesh again". The Greek equivalent metempsychosis (μετεμψύχωσις) roughly corresponds to the common English phrase "transmigration of the soul" and also usually connotes reincarnation after death.
Reincarnation and Early Christianity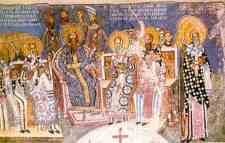 In Greco-Roman thought, the concept of metempsychosis disappeared with the rise of Early Christianity, reincarnation being incompatible with the Christian core doctrine of salvation of the faithful after death. It has been suggested that some of the early Church Fathers, especially Origen still entertained a belief in the possibility of reincarnation, but evidence is tenuous, and the writings of Origen as they have come down to us speak explicitly against it.
Some early Christian Gnostic sects professed reincarnation. The Sethians and followers of Valentinus believed in it. The followers of Bardaisan of Mesopotamia, a sect of the 2nd century deemed heretical by the Catholic Church, drew upon Chaldean astrology, to which Bardaisan's son Harmonius, educated in Athens, added Greek ideas including a sort of metempsychosis. Another such teacher was Basilides (132–? CE/AD), known to us through the criticisms of Irenaeus and the work of Clement of Alexandria.
---
Comments....
Twitter
Egyptian
In the Hermetica, a Graeco-Egyptian series of writings on cosmology and spirituality attributed to Hermes Trismegistus/Thoth the doctrine of reincarnation is also central.
Jewish Mystics
Although there is no reference to reincarnation in the Talmud or any prior writings, according to rabbis such as Rabbi Avraham Arieh Trugman, reincarnation is recognized as being part and parcel of Jewish tradition. Rabbi Trugman explains that it is through oral tradition that the meanings of the Torah, its commandments and stories, are known and understood. The classic work of Jewish mysticism whose origins date back 2000 years, the Zohar, is quoted liberally in all Jewish learning; in the Zohar the idea of reincarnation is mentioned repeatedly. Rabbi Trugman states that in the last five centuries the concept of reincarnation, which until then had been a much hidden tradition within Judaism, was given open exposure.
Facebook